canon has been requesting an "ars" birthday for several months now! so cars is what we went with when we had his party at the park last saturday (may 21st...for my records....ha)! he could not wait for the day to arrive. i was worried about the weather when i saw a 60% chance of rain earlier in the week, but thankfully, it turned out beautiful and breezy.
i had the cupcakes made at our favorite bakery and then made the cupcake toppers and goodie bags. i spent hours on them! lane jokes and says the boys' parties are as much for me as they are for them! i just want the party to be perfect for them!
we had lunch out there...hot dogs, baked beans, deviled eggs, chips, and watermelon. i love that he has a spring birthday so we can do his parties outside. so easy and low-key. although my favorite thing about it is the minimum clean-up! leave it to my boys' to be the last 2 at the table :)
after lunch, the kids headed off for the playground. i wish i could put one of these hard-core playsets in my backyard. they would live out there. they LOVE exploring all the nooks and crannies of it.
soon it was time for presents. canon had been looking forward to this! this was the first year that he really understood what a birthday means. he was sweet and thanked each person with a hug for his gifts. the boy racked up the sports' gear...t-ball stand, soccer goal and a baseball glove. he also scored a grill, iron man toys, a construction worker hat, a beach ball and a water bottle with his name on it (which he insists drinking out of every time he's thirsty). ledger gave him a "mater" truck.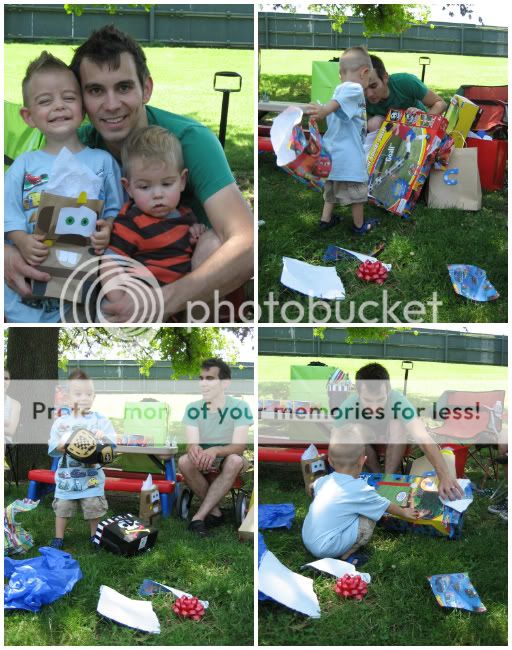 canon wasn't sure about everyone singing to him. he looked so shy, but knew what to do with the candle! it was so windy, we kept having to re-light it. my kids were such messy cupcake eaters. i had a package of wipes out there, but have since decided that sugar and wipes make more of a mess! however, the cupcakes were delicious and i may have eaten two...one of each!
we ended up at the same picnic spot we were at for canon's first birthday. i remembered we had taken canon's picture on this tree so we reenacted it so we could see how much he has grown and changed.
he's at such a fun age! we love this little guy so much and feel so blessed to be his parents. his actual birthday isn't until may 29th. we have a really low-key weekend so i'm sure we'll end up doing something to make him feel special on his real day (even though i'm pretty sure he thinks his birthday has already passed). happy birthday, sweet canon!