we have an awesome aquarium here in town that we had yet to visit since living here. i'm always looking for neat places to take the kids. unfortunately, our city doesn't have any children's museums. i'd love to have a pass to one! we have the zoo, the aquarium, fun parks and libraries, but not too much more. local peeps, what would be some fun/educational (cheap :)) places for my boys this summer?? i'm out of ideas!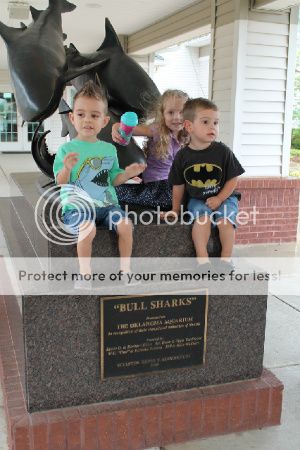 someone had recently gifted us a trip to the aquarium. last friday was a gray day and we decided last minute that the aquarium would be the perfect place to spend a couple of hours. it was spontaneous and so much fun! we had watched the greer girls that morning while levi and eden went to the doctor. we invited them to come along with us once they got back! we love double dating with their family :)
the boys insisted that these turtles were from rolla and named lenny!
loved watching their excitement. they'd ask what something was called then repeat it. it was funny listening to ledger say such big words! as soon as we got to the end of one exhibit, they would say, "let's go look at more stuff.
my favorite part were the tunnels under the shark tank. it was so peaceful!
canon LOVED the sharks! ledger would never get on the ledge to look. he kept repeating his most recent, favorite phrase: "that scare me."
canon loves the show "swamp people." he may have a future in gator hunting. ledger was most interested in feeding the alligator rocks!