the week that was supposed to be the calm before the two month storm turned out to be CRA-CRA!! here's a little of what's been going on...
remember the 24 hour fever bug ledge had last weekend? welp, canon got it on monday which cancelled school and speech for him on tuesday. so weird.

the weather was absolutely perfect monday-wednesday. we spent our mornings out there each day, and then i spent the boys naptime getting a jump start on my tan. it's seriously therapy laying out there with a book! LOVE the sunshine!!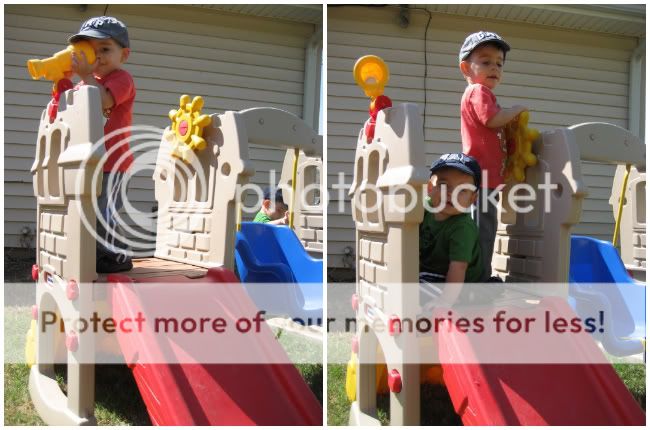 i got a call on wednesday saying canon had an appointment thursday morning with the pediatric endocrinologist. i had made the appt 6 months ago and it never made it to the calendar. we went and he's great. his height has stayed consistent on the growth chart. his weight had fallen off a bit, but the doctor wasn't concerned since he was sick last month. we go back in 6 months for another check-up and possibly some labs at that point.

canon also had an appointment with his ENT on friday. we LOVE him and how proactive he is. canon's hearing test was great. when we were with the doctor, we talked about clipping his tongue and the doctor was a little hesitant to put him under just to do that. once he examined his ears and tongue, he was surprised at how tongue-tied he was. he said his tubes were still in and working, but had quite a bit of "crust" around them. he also said his adenoids were medium to large in size, and although they weren't obstructing anything, with all the problems canon has had, they might be problemsome once his tubes were out. he felt he could very well justify going in and putting in a new set of tubes, taking his adenoids out and clipping his tongue. i was so on board for a few reasons...tubes have been a miracle for canon. after having constant ear infections for 10 months, he has not had one since getting tubes at 16 months. also, i feel like doctors and specialists we have seen have been on the fence since birth about clipping his tongue. he has definitely learned to compensate in pronunciation and has had difficulty articulating certain sounds due to this. we are very excited!

we had our first tornado warning of the season on thursday. it was exciting...and scary!

levi and eden and their sweet girls stayed with us thursday night. canon kept calling nora, "orna". i laughed everytime.

for those of you who saw my facebook post of the picture of canon's bed below, one of my solutions has been to ghetto rig his closet! for those who didn't see it, during canon's nap almost every day, he empties his closet and dresser onto his bed. annoying!
we grilled burgers in the freezing cold and rain last night. we've been craving them and lauren and kyle were staying with us so we went for it. we had burgers, baked beans, deviled eggs and seasoned fries...scrumptious.

i spent my morning today addressing wedding invites. i got through kyle's list. my hand is still cramping.

i spent my afternoon getting vicks out of canon's hair. the count is now vaseline-2, vicks-2, me-0. it's my least favorite thing EVER! on the other hand, he told lane he was making a "faux hawk like dad's" in the sweetest voice. ok. forgiven!

canon's been potty training for a month now (minus the week he was super sick). this week we finally had some breakthroughs. he stays dry about 90% of the time at home, but had quite the fear of going on public potties...until this week. we've used church potties, doctor's potties and hobby lobby's fine facilities! his big hang up was school and church. he would hold it for hours and refuse the multiple opportunities given him. he finally went for both events this week, and even woke up dry from a nap at school! when we are out, he wears a pull-up over his undies so we aren't doing complete outfit changes. we're making progress. i feel encouraged with our new breakthrough!!
that's about it from here!