first off, i'm so behind on blogging. our laptop has been acting funny for a few weeks. we finally took it in today to get it looked at. just needed a new battery...thank goodness! also, photobucket has changed and is so weird now so i had to figure out a new site to resize my pictures. but, i'm back and my goal is to catch up this weekend!
lane's sweet papa passed away on april 27th and the funeral was last tuesday. we packed up and headed to joplin on monday. it was nice to be with all of his mom's family. of course, the boys loved playing with all their cousins.
all the men of the family wore one of papa's ties for the funeral. it was a beautiful service. because he said yes when god called him to himself and his work, papa has left a beautiful legacy. his infamous quote said, "more than anything, i would that you love my jesus."
on wednesday, we left joplin and headed up the road to rolla to visit his other grandparents and aunt lori. it had been a couple of years since we had been up there. rolla is one of the most relaxing places. i've said it before, but time really does stand still while there. this is a major picture overload, but since i'm currently not scrapbooking, this is where i compile all of our memories! my boys were in outdoor heaven. they spent too many hours to count outside and loved every minute of it.
I have pictures and sweet memories of riding on my great grandpas's lap around the yard on the lawn mower, too.
putting holes in the can with the bee bee gun.
grammie dug out some of her kids' favorite books. one was called "caps for sale." each night they requested that book for her to read.
on thursday morning, we went to a place called lane spring. i had never been there before. lane and his dad have always talked about it being the place that they skipped rocks and hunted crawdads. it was beautiful. the water was crystal clear and cold!
this is a turtle that the boys named, lenny.
ledger was concerned with him going towards the water. we weren't sure if box turtles could swim or not. i'm happy to say that he made it safely across!
canon bravely holding a little crawdad. i love how he's looking at it!
poppa taught them how to cool themselves off!
my animal loving boy surprised me by being nervous around the little guys. as soon as lane would put it in ledger's fingers, he would drop it.
it didn't take long for them to completely soak themselves and lose their jean shorts. i totally forgot their swim trunks at home.
this is poppa's favorite tree. after i snapped the pic, i ran over to complete the circle around the tree.
after lunch and a nap, we played outside for a couple more hours. poppa left a couple of rows of his garden empty so the boys could dig in the dirt.
knox enjoying a little bird watching.
aunt lori and lane playing "golf around the house"... a game they've played for years.
helping grammie plant some flower seeds.
she got them each a spray bottle to play with. they loved "watering" the flowers.
making an after dinner treat.
friday morning, we headed to panera for breakfast and coffee.
we then drove around town for awhile looking at different places/things. we drove by some alpacas at one point.
we hit up a really neat park with TONS of playground equipment!
after naps, we loaded up to go visit a friend of theirs that has miniature donkeys. of course, ledger warmed up to them real fast. jill's hat was cracking me up!
canon wasn't so sure about them!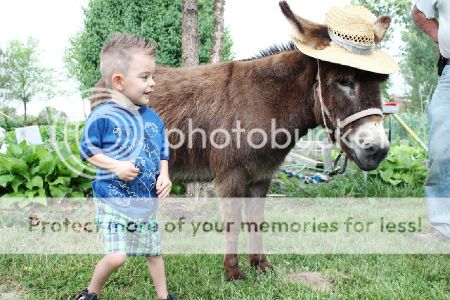 one of the most peaceful sights i've ever seen.
friday evening, we went to meramac springs for a picnic and to feed the fish. the boys were so excited about this! grammie packed us a wonderful dinner. look at the view we had while we ate. breathtaking.
the boys LOVED feeding the fish. you pay a quarter to get a hand full of food. we had to teach ledger what rationing meant. he kept wanting to just dump it out. there's a trout hatchery there so tons of fish to feed!
aunt lori and lane carried each of the boys out to the middle.
a sweet picture. ollie loved strolling and visiting.
poppa put a couple of fishing poles in the car and hoped that the boys would be able to fish. here's their little fishing passes. unfortunately, they didn't catch anything.
when did he turn into a little boy??
we took marshmallows for bait. of course, ledger decided pretty quickly that they made for a better snack!
canon had it in his head that we would see "reindeer."while they were fishing, grammie spotted about 7 or 8 deer out in the field. before we left, we had seen about 20 deer.
before heading home, we stopped for ice cream!
saturday morning, after a big, scrumptious, country breakfast, i met up with aunt lori for pedicures. while i was gone, the boys helped poppa plant cucumbers.
grammie helped them each cut a flower from the garden for me!
it was so great seeing you, aunt lori! we had so much fun playing with you. thanks for the fun treats and sweet company. we love you!!
grammie and poppa, we so enjoyed our visit. the boys are still talking about all the fun things we did. lane and i were able to fully relax and left so refreshed. we love you and thank you for making sweet memories with us. also, thanks for all the yummy meals you prepared for us. our crew can put away the food! we love you both :)